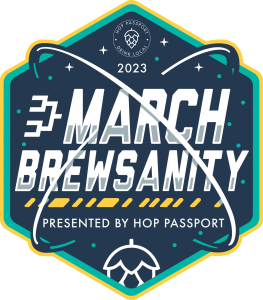 Thank you for taking the time to vote in the 1st Annual March Brewsanity. Please only vote one time per day.
If your favorite Hop Passport location is missing from round 1, that is because they are on a bye week. Check back in on round 2 to vote for them.
If you would like to vote for breweries, click on the the state below to go to the poll.
Whats Up For Grabs
The winners of each region will win a trophy to show off in their taproom. The National Champion will win an award ceremony, a national champion trophy and Hop Passport will donate $1,000 to the charity of their choice.
Also, for taking the time to vote for your favorite Hop Passport locations, here is a discount code! Use code: MARCH23 for $5 off your order and FREE shipping.
CLICK HERE TO SHOP NOW
Round 5 voting starts March 21st at 12PM EST and ends March 23rd at 12PM EST
Northeast
Connecticut : Bad Dog Brewing
South
Arkansas : Native Brew Works
West Virginia : Parkersburg Brewing
Midwest
Indiana : Goodwood – Indy
Kansas : Black Stag Brewery
Nebraska : Brickway Brewery
North Dakota: Dialectic Brewing
Ohio : Goodwood – Columbus
West
Idaho : Edge Brewing
Montana : Big Sky Brewing
Nevada : CraftHaus Brewery
Utah: Epic Brewing – Salt Lake City