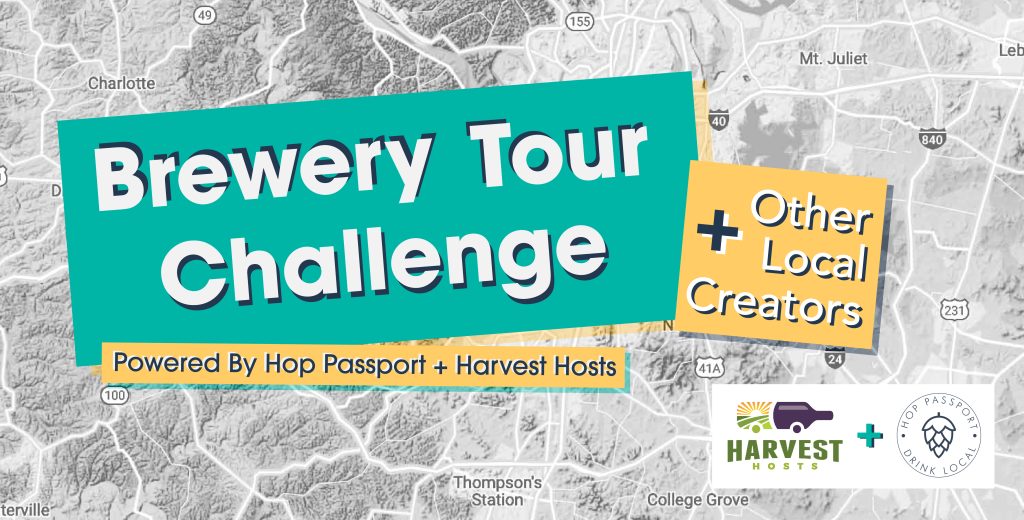 Looking for a summer activity that will get you out and about? Grab your brew buddy and support your local breweries by participating in the Brewery Tour Challenge!
At Hop Passport, we have been thinking of fun ways to get people to visit the locations in the passport. We have had this idea for a few years and are finally pulling the trigger on it. We bring you the Brewery Tour Challenge +Other Creators powered by Harvest Hosts and Hop Passport. You do not need a Hop Passport to participate and may have already been to these locations with your passport. For Harvest Hosts participating breweries, you will need a Harvest Hosts membership for overnight stays. You can save 15% on your first year of membership when you purchase using HHFRIENDS15, Click Here!
What would a Hop Passport challenge be without an awesome prize? For each tour completed, you will be entered into the giveaway. We will draw 10 winners. The grad prize winner will win a $200 gas gift card, $200 Hop Passport gift card, Harvest Hosts All Access Membership ($179 value) and a 2024 Entire Country Hop Passport. The 9 other winners will win a 2024 state digital Hop Passport and Harvest Hosts Classic Membership ($99 value). Check out the rules below to enter into the giveaway. *Each membership is good for one-year
Click the Top Right Icon of the Map to See the List of Tours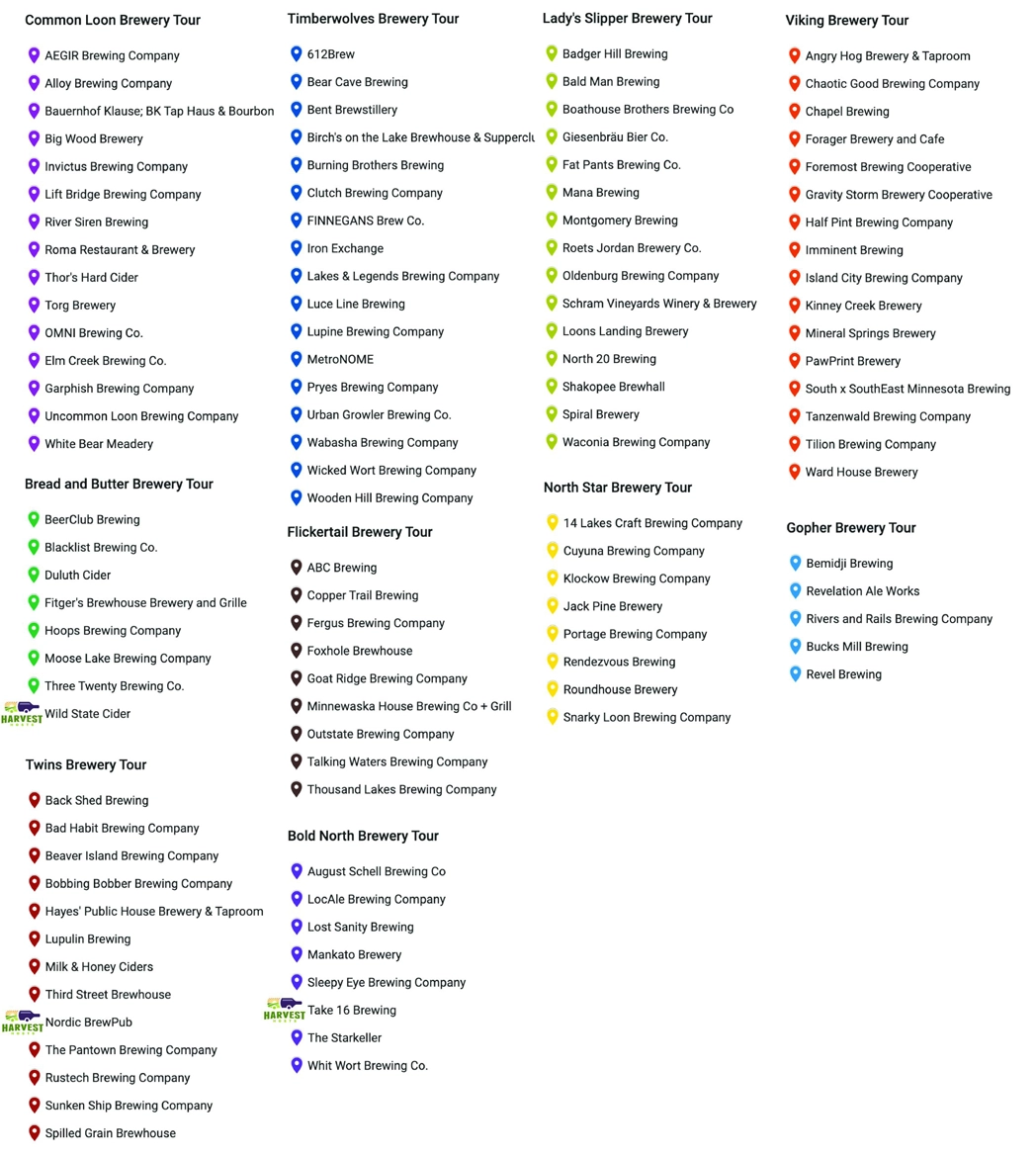 Rules for the Minnesota Brewery Tour Challenge:
Visit each location in the tour
Take a picture with you and a merchandise item at the brewery. (hat, shirt, hoodie, etc)
Post pictures to Instagram and use the hashtag #HPHHTour and tag @hoppassport and @harvesthosts
Make sure your profile is public so we can track your progress
Don't have Instagram or want to remain private? Email your photos to promos.hoppassport@gmail.com
After you complete a tour, fill out this form so we can confirm you finished the tour and contact you if you are a winner
If you complete 3 different tours you will have 3 entries into the giveaway.
Each tour can only be completed once to count towards an entry.
No purchase necessary to enter the drawing and participate in the Brewery Tour Challenge
Want to save some money while you conquer each tour? Grab a Hop Passport and use code: BREWTOUR for $7 off and free shipping (Passport pays for itself after 4-5 visits) CLICK HERE to buy one now
The Brewery Tour Challenge starts 7/1/2023 and ends 9/30/2023
Have fun and make memories
*By posting your photos to Instagram and using the hashtags, you give Hop Passport and Harvest Hosts the permission to use your images for marketing purposes.
Example photos for Instagram or email
Example photos for Instagram or email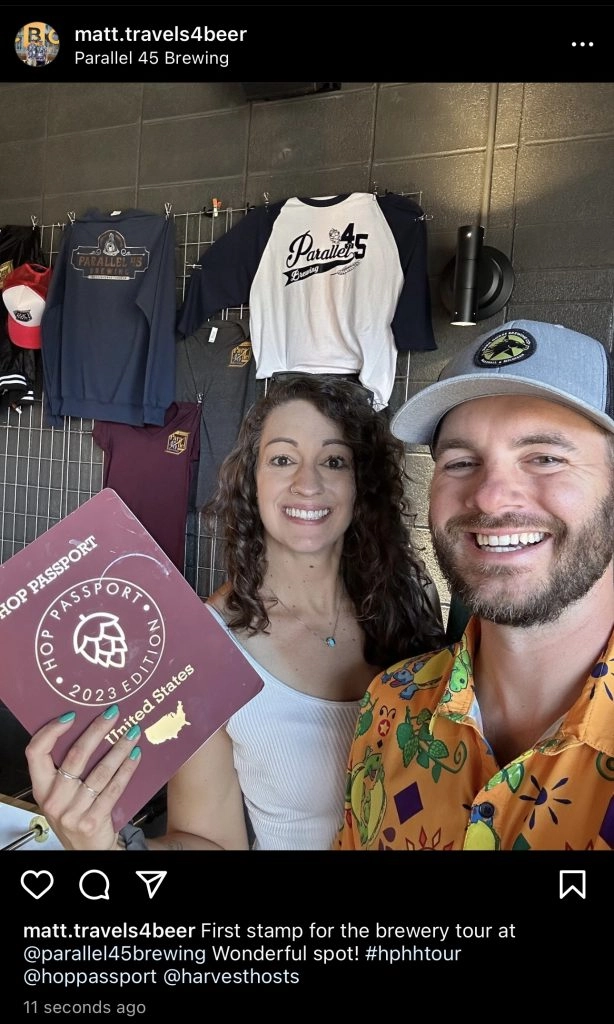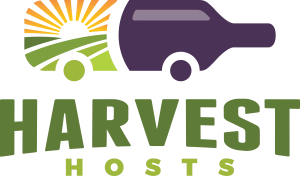 Harvest Hosts is a membership program that provides access to a network of more than 4,000 wineries, farms, breweries, museums, and other unique attractions that invite self-contained RVers to visit and stay overnight. Hop Passport members receive 15% off a Harvest Hosts Classic plan, Boondockers Welcome plan, or Combo plan for the first year. This offer is for new Harvest Hosts memberships only. Click Here to learn more and receive 15% off a membership.
Do I have to be in the photos?

Yes, how else can we tell you went to all the locations in the tour

Do I have to post to Instagram?

No, you can email us at

Do I have to have a Hop Passport?

No, but it would help you have a little bit of money so you can tip your bartender more.

What if I have already used my Hop Passport at the locations in the tour?

Then you have a great reason to go back to visit them again.

Do I have to have the Hop Passport app?

No, but it will show you how close you are to each location in the tour

Can I stay overnight at the location without a Harvest Hosts membership?

No, to overnight at the participating breweries you must be a member of Harvest Hosts.

Can I do the same tour more than once?

You can but it will still only count as 1 entry into the giveaway

Can I do multiple tours in the state?

Yes! If you complete 4 different tours in your state then you will have 4 entires into the giveaway!

Can I do tours in my state and other states?

Yes! More tours, More entires!

When do I have to fill out the Google form by?

Please fill out the Google Form as soon as you finish the tour. The drawing will take place Oct. 1st at 5pm. EST

What if I forget to fill out the form?

Then you will not be entered into the giveaway

When is the giveaway and names drawn?

The drawing will take place Oct. 1st at 5pm. EST